A scooter and an enchanting movie star: Audrey Hepburn.
She gets on a scooter for a foolish ride amid the traffic of Rome
starting right from Palazzo Bonaparte in Piazza Venezia.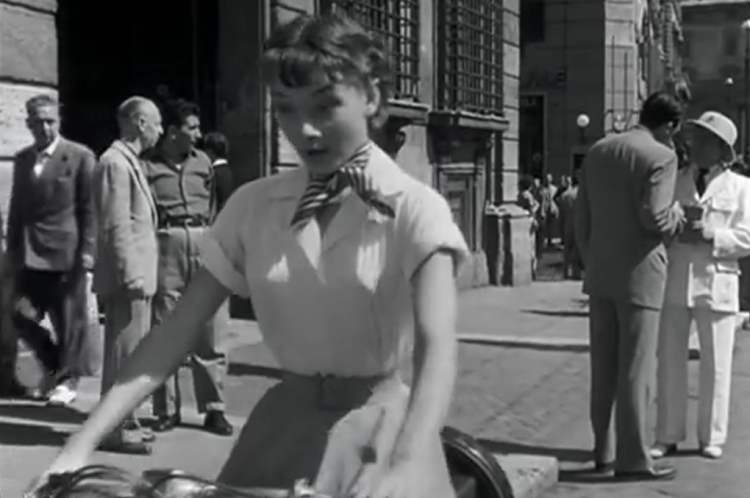 In 1953 the American director William Wyler was standing in Piazza Venezia behind his movie camera to film a famous and most entertaining scene: Audrey Hepburn's scooter ride in "Roman Holiday" motion picture. The fascinating actress fumbles with the scooter ignition and suddenly sets off towards Via del Plebiscito in a rush to the utter astonishment of Gregory Peck. The action takes places in front of Palazzo Bonaparte, whose fine windows provided with elegant seventeenth-century iron gratings are clearly recognisable in the movie.
So a thin, invisible line connects the twentieth-century American movie star to another woman, Maria Letizia Ramolino. She was the mother of a giant of European history, Napoleone Bonaparte. After the death of her son in St. Helena, she has resided for many years in the rooms on the first floor of Palazzo Bonaparte, spending her final years just peeking out from the covered balcony, which still exists, at the people passing in Via del Corso. Two famous women, one place. In that lies the magic of Rome.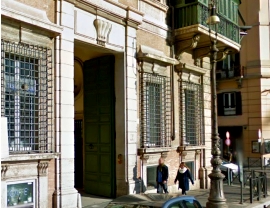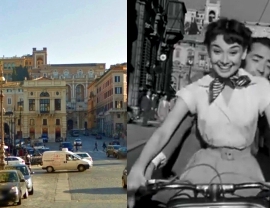 Words from a contemporary Grand Tour
Location:
Address:
Opening hours:

Ticket price:
Official website:
Visiting tips:
No admission allowed to the general public
Above the central window on the first floor, a stone eagle holds in its claws the arms of the Bonaparte di Canino family