Church of St. Stefano Rotondo
An enchanting early-Christian church shaped as an antique Roman temple.
Walk the circular space among marble columns, mosaics and frescoed walls.
An experience of beauty and silence reaching out for you from the first centuries of Christianity.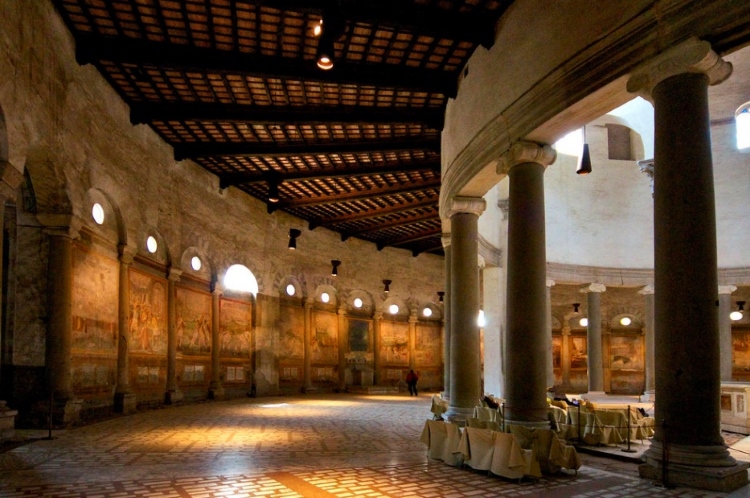 A unique church stands on the Caelian Hill: St. Stefano Rotondo seems to have just arrived from the earliest centuries of Christianity, with its silent spell and pure likeness. A wide circular space invites the visitor's mind to concentrate on the mystery of a new faith, a treasure concealed in the central portion of the building where the altar is encircled by twenty-two magnificent columns taken from antique pagan temples. On one side, the chapel of the Sts. Primus and Felician blazes with the golden hues of a very rare mosaic, dating to the seventh century of the Christian era.
And yet what the Grand Tour travellers of past centuries wanted to see in this church was the gruesome, gory frescoes covering the entire length of the temple's internal walls: visions of the martyrdom of early Christians and saints, painted in the sixteenth century with grisly details of bloodsheds and maimed limbs, a must-see for all foreigners coming to Rome to get the thrilling feeling of an ancient vanished Empire and its cruel persecutions against the worshippers of a new religion.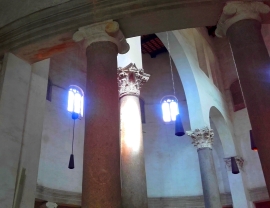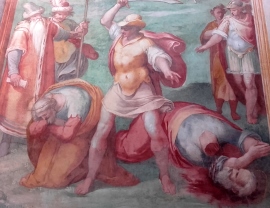 Words from The Grand Tour
Location:
Address:
Opening hours:

Ticket price:
Official website:
Visiting tips:
near the Colosseum, can be reached on foot from there
Via di Santo Stefano Rotondo, 7 - Rome
Monday to Sunday 10.00/13.00-15.30/18.30

Linger in the small garden just outside the church to breathe the ambiance of the centuries of early Christians