An imposing medieval tower raises in downtown Rome beside a church and baroque palaces.
An old legend encircles the shrine of the Holy Virgin standing on the lofty top.
An enchanted place that was celebrated by American novelist Nathaniel Hawthorne.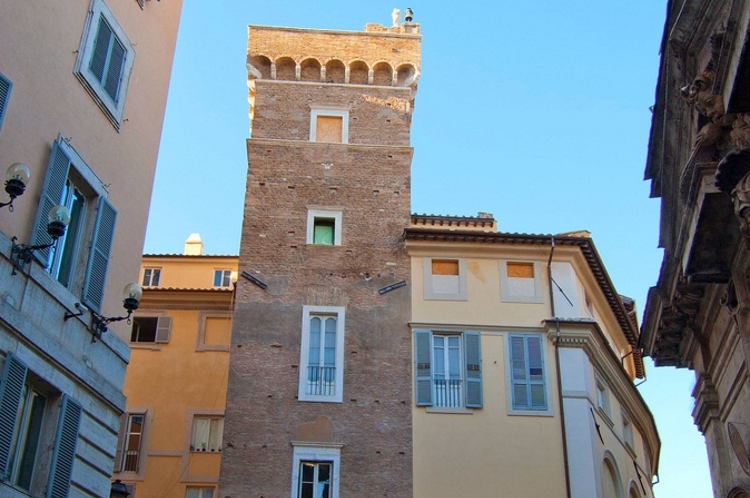 If you walk the narrow streets leading from Campo Marzio to the Lungotevere you may stumble upon the Tower of the Monkey (Torre della Scimmia), an ancient building that once belonged to the Frangipane family, with its imposing brickwalled outline. On the top of it, an ever-burning lamp is always lit in front of a statue of the Virgin, in fulfillment of a vow made to the Mother of Jesus when, according to the legend, a monkey who lived in the house took an infant from his cradle and brought him up to the summit of the tower. The father swore he would honor the Virgin forever with a perennial lamp if She would allow the baby to be returned: so did the monkey, and from that occurrence the lamp never goes out, so as to preserve the integrity and ownership of the ancient tower.
In 1860, Nathaniel Hawthorne, the great American novelist, selected the Tower as the heavenly place where his pure character Hilda, a young artist who plays a major role in his novel "The Marble Faun", resides in a picturesque, fanciful Rome: from then on, "Hilda's Tower" has become a popular attraction for Hawthorne's readers visiting Rome from all over the world.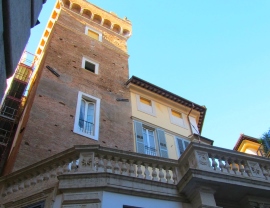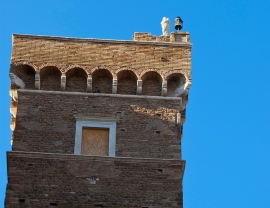 Words from The Grand Tour
Location:
Address:
Opening hours:

Ticket price:
Official website:
Visiting tips:
near Piazza Navona, can be reached on foot from there
Via dei Portoghesi, 17 - Rome
Private building
No admission allowed to the general public
-
Look at the tower with your copy of 'The Marble Faun' at hand and read chapter VI 'The Virgin Shrine'