Church of St. Carlo alle Quattro Fontane
He was young. But he was no ordinary architect.
He was Francesco Borromini. And when he had the chance to prove himself in his first large project,
he just succeeded in creating an astonishing baroque masterpiece.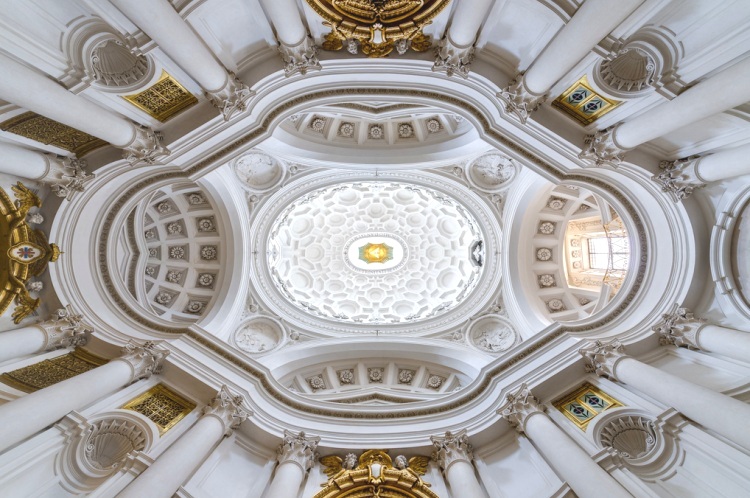 Genius cannot be restricted, and Borromini's talent just sprang out in full evidence as soon as he was commissioned his first important work in Rome. He was only thirty-four when he confronted with the challenge of building a church in a very small, irregular spot at the Quattro Fontane crossroad. Borromini conceived a daring, innovative design: he worked out a fantastic elongated, diamond-shaped structure with curved lines; on top he put an airy oval dome, flooded with light through concealed windows as if suspended in space.
To link together the diamond and the dome, so different in shape, he designed a number of magnificent arches and roundels connecting the two levels. As a final touch, the dome itself was decorated with octagons, hexagons and crosses which decrease in size towards the center, conveying an impression of increased height for this very small church. His accomplishment in St. Carlo was immediately recognised as the work of a genius. And his fame took wings.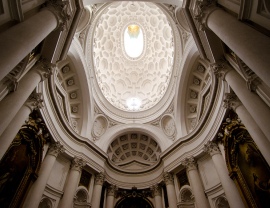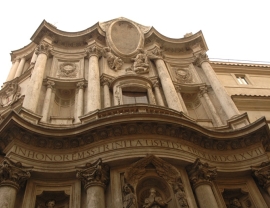 Words from The Grand Tour
Location:
Address:
Opening hours:

Ticket price:
Official website:
Visiting tips:
near the Quirinale, easily reached on foot from there
Via del Quirinale, 23 - Rome
Monday to Friday 10.00/13.00-15.00/18.00
Saturdays and Sundays 10.00-13.00
Best appreciated when combined with a visit to the Church of S. Andrea al Quirinale nearby, Bernini's masterpiece