Today very few people know that a special memory of ancient Israel is preserved in Rome.
A unique relic of a long-gone past is concealed just beneath St. Peter's dome.
It's the columns of the Second Temple brought by the Romans after the destruction of Jerusalem.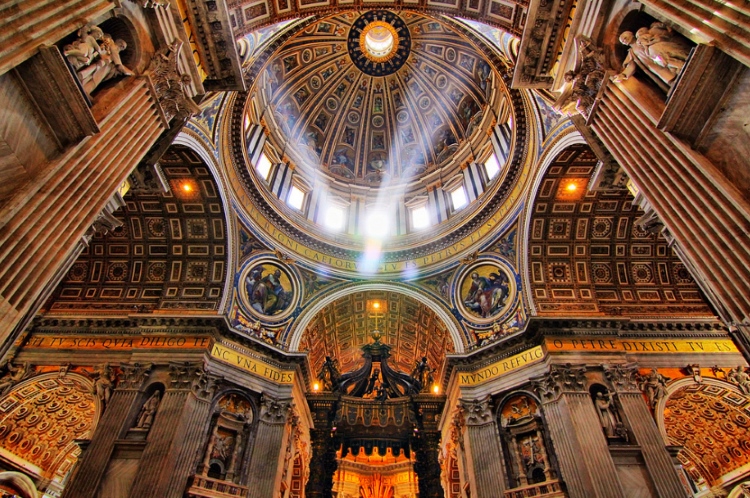 Everybody in the world knows St. Peter's dome. But almost nobody knows that the piers which support Michelangelo's dome incorporate the spiral columns pillaged by the Romans from the Jewish Holy Temple in Jerusalem.
In 70 A.C. the legions led by Emperor Titus returned to Rome with a number of spoils including the golden Menorah and twelve columns which, according to tradition, had stood in the Second temple. All the spoils were initially stored in the Temple of Peace at the Forum. In the fourth century, Emperor Constantine built the old St. Peter's Basilica and moved the columns in front of the altar. Finally, the present Basilica was built and in the seventeenth century Bernini worked at the niches in the piers, which he embellished by setting in them eight of the columns (two were used in the Chapel of the Holy Sacrament in the right nave, another one is visible in the Treasury Museum of St. Peter's).
According to recent studies, the Solomonic columns, beautifully decorated with sculpted vines, though not part of the earlier Solomon's Temple, may actually come from ancient Palestine.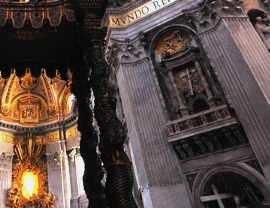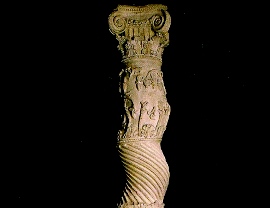 Words from The Grand Tour
Location:
Address:
Opening hours:

Ticket price:
Official website:
Visiting tips:
inside St. Peter's Basilica
Piazza San Pietro - The Vatican
Monday to Sunday 07.00-18.30

For a close inspection of the wonderful sculpted vines see the column on display at St. Peter's Treasury Museum