Church of St. Martino ai Monti
Take the stairs leading down into the noble earth of Rome.
Step back in time and join the early Christians in their ancient place of worship,
a third-century vaulted building hidden in darkness under the modern city.
When descending the steps which start from the upper level where the crypt is located, the visitor is already prepared to leave our contemporary life. Everything must be left behind. And the spell is on us again. A maze of large subterranean rooms is awaiting us: the original third-century Titulus Equitii, where the devotees of a faith that was still young praised God and his Son. The sturdy walls, possibly belonging to the adjacent Baths of Emperor Trajan, enfold our body and heart, as the sunlight creeping in from small windows above plays with the artificial gleam cast by the electric bulbs, leaving large patches of gloom.
Emperor Constantin the Great's shadow still lingers in these underground chambers, where a Council with Pope Silvester I and bishops from all the ancient Christian world was held, around 330 A.D. Past is always linked to our present days, the more in a space like the fascinating subterranean vaults of St. Martin.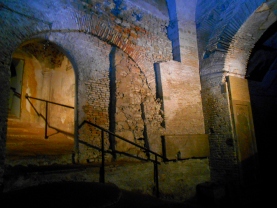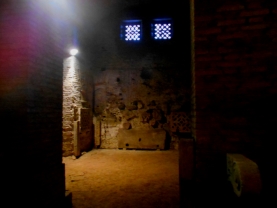 Words from The Grand Tour
Location:
Address:
Opening hours:

Ticket price:
Official website:
Visiting tips:
Adjacent to the public park of Colle Oppio
Viale del Colle Oppio, 28 - Rome
07.30/12.00-16.00/19.00

To visit the underground level ask the priest (not allowed during Mass times)