In this macabre vault, where the bodies of thousands of dead Capuchin friars are collected,
a terrifying display has been staged throughout the centuries,
with human skulls and bones speaking of immortal Life and eternal Death.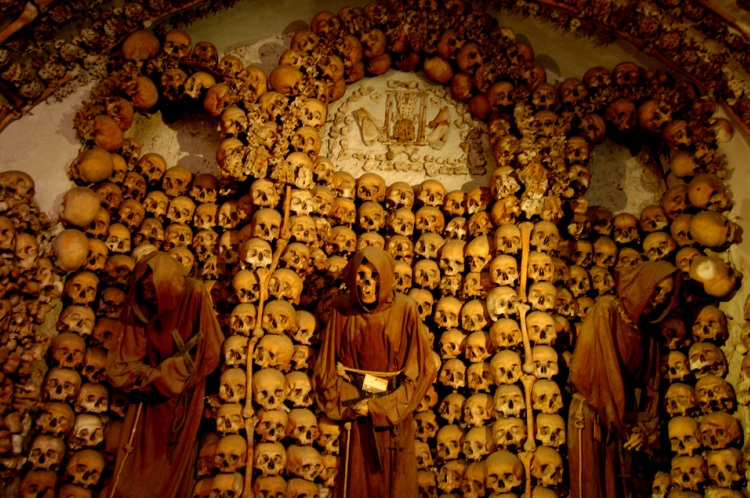 A odd, peculiar smell fills the air in the dimly-lit vaults. A creepy sensation overwhelms your mind as you advance through the rooms, packed to the ceiling with parts of human bodies. The friars seem to stare at you while you step beside them, hastening your pace as if in an increasing, uneasy hurry.
But there's no need to hurry. They are all dead. For this is a cemetery. A very ghastly one. When in 1631 the friars moved from their old monastery to this new site, they brought with them thousands of decayed corpses, formerly housed in the friar's burial place being abandoned. It was Fr. Michele da Bergamo who contrived this macabre arrangement as a horrible reminder of the passing of life and the looming of death.
For centuries, this very place has been a mandatory sight for Grand Tour travellers, who emerged appalled from the visit to this dreadful place, of whose many accounts remain in the written records of famous writers and artists. And the effect upon visitors is utterly the same today.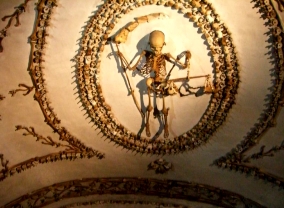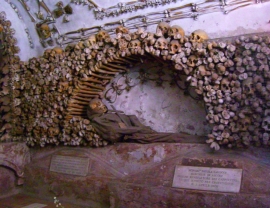 Words from The Grand Tour
Location:
Address:
Opening hours:

Ticket price:
Official website:
Visiting tips:
Monday to Sunday 09.00/19.00
(last admission 18.30)
6 euro (5 euro special prices)
For a fully spooky experience, the crypt is to be visited during weekdays at 09.00, when you may have the chance to enter the vaults nearly alone